In a move to reduce the ongoing tension between the two-long time allies, Turkey is likely to re-send its ambassador to Washington ahead of an international nuclear summit on April 12.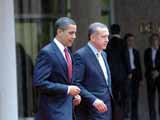 Prime Minister Recep Tayyip Erdoğan and Foreign Minister Ahmet Davutoğlu are expected to attend the meeting although their presence has not yet been officially announced.
According to diplomats, Ambassador Namık Tan's return and Erdoğan's visit to the United States was only made possible following a lengthy telephone conversation between Davutoğlu and U.S. Secretary of State Hillary Clinton on Sunday.
The relations between the two countries were strained by the adoption of a resolution on Armenian "genocide" claims in the Foreign Affairs Committee of the House of Representatives on March 4. Blaming the U.S. administration for not doing enough to stop the approval of the resolution, Turkey recalled its ambassador in protest.
Some in Ankara had called for Erdoğan to cancel his trip to the U.S. following the vote.
However, recent diplomatic activity reveals that both Tan and Erdoğan could depart for Washington in the coming days.
Following the telephone conversation, Turkish officials said there was a 50 percent chance Erdoğan would travel to the U.S.
Officials also said Ankara was awaiting strong signals from the U.S. regarding the Armenian resolution, along with assurances from Washington about the Turkish-Armenian protocols following only qualified approval for the documents from Armenian top.
According to sources, there are a number of good reasons for Erdoğan's participation at the summit as Erdoğan's absence would likely be interpreted as a protest against U.S. President Barack Obama.
At the same time, the unnamed officials said the prime minister's no-show would be counter-productive for the country's national interests, especially when coming immediately before April 24, the day Obama will issue an annual message commemorating the killing of Armenians in 1915.
Obama has also invited Armenian President Serge Sarkisian to the summit. Although the venue is not considered the best venue for a bilateral meeting between Erdoğan and Sarkisian, officials said the absence of senior Turkish government members would be a disadvantage.
Another important reason for Erdoğan's possible attendance remains the fact that the summit covers an issue in which Turkey is trying to play a global role, according to officials. Turkey is an active country in the fight against the proliferation of nuclear weapons but also an advocate of the right of the peaceful use of nuclear energy.
The issues that will be discussed in Washington, including Iran's controversial nuclear program, are of the utmost importance for Turkey, officials said. It is also vital for Turkey to be present at the summit at a moment when the international community is seeking a consensus on potential sanctions to be applied against Iran.
/Hurriyet Daily News/