US Secretary of State Hillary Clinton claims that six key world powers are united in talks on a possible new round of sanctions against Iran over its nuclear program.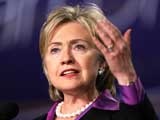 Clinton's remarks come as the US President Barack Obama on Tuesday had acknowledged a lack of unanimity between nations on new Iran sanctions, explaining that the powers had "not yet" closed wide gaps on the specifics of new punitive measures against Iran.
Clinton made the comments after she was asked by reporters about a conference call earlier on Wednesday among representatives of the five permanent members of the UN Security Council and Germany.
The group "continues to be unified," Clinton said. "There will be a great deal of further consultation not only among the (six), but other members of the Security Council and other member nations during the next weeks."
/Press TV/