Turkish Ministry of Justice has handed over all documents requested by the Frankfurt State Court on the "Deniz Feneri" case to the German Embassy in Ankara on March 29.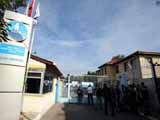 The documents handed over are comprised of six binders and one box.
The "Deniz Feneri" documents were presented to the German Embassy based on legal agreements between Turkey and Germany.
In September 2008, a German court convicted three Turks of fraud for drawing off donations and using them for other purposes outside charity.
The Frankfurt State Court sentenced the three men working for the charity Deniz Feneri e.V in Germany to prison terms.
The court sentenced Mehmet Gurhan to 5 years and 10 months, Mehmet Taskan to 2 years and 9 months in prison. Firdevsi Ermis was sentenced to one year and 10 months in prison, which was suspended on probation.
Court judge Johann Muller had said after the trial that Deniz Feneri e.V. had received a total of 41 million euros of donations over last five years in Germany and 17 million euros of that had been sent to Turkey.
German legal authorities took testimonies of 58 people regarding the Deniz Feneri e.V.
/World Bulletin/