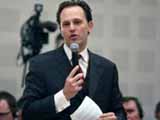 Greek Alternate Foreign Minister Dimitris Droutsas will pay a formal visit to Turkey on April 8.
A statement by the Turkish Foreign Ministry said on Wednesday that the premiers of Turkey and Greece confirmed that the two countries had a joint will to boost relations. Turkish and Greek parties would have opportunity to exchange views on several matters during Droutsas's visit to Turkey, the statement said.
It added that Turkish Foreign Minister Ahmet Davutoglu earlier had meetings with Droutsas within the scope of international conferences in London, Britain and Cordoba, Spain.
/World Bulletin/