Turkish mobile communication sector will end calls with units as of April 1 and TL/kurus will be used instead of units.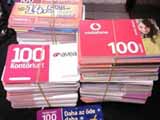 Information and Communication Technologies Authority told a statement on Wednesday that mobile operators would use TL/kurus instead of unit in voice, SMS and other services as of Thursday.
There is no need for subscribers to make application or tariff change for this new service.
/World Bulletin/