Georgian emigrants have founded a political union called Charter-2010.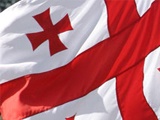 The union aims to help Georgia establish closer relations with the West.
The statement on establishment was released by ex-deputies of the Supreme Council [acting in Zviad Gamsakhurdia's times - 1990-1991],  Medea Tushmalishvili [resides in France] and Viktor Domukhovskiy [in Poland].
"When representatives of the radical opposition overtly start a 'dialog" with Kremlin and demand it to help, they create a serious threat to Georgia's statehood both in close and distant future; and we consider timely to let Georgians, living in the West, express their position on ongoing processes in Georgia," the authors of the statement said.
The statement was signed by Medea Tushmalishvili [France], Victor Domukhovsky [Poland], Dodona Kisiri [U.S.], Irakli Khizanishvili [U.S.], Revaz Bochorishvili [France], Charles Chhotua [Spain], Maya Simony [Netherlands] and Reno Siradze [Finland].
/Georgia Times/