The Turkish foreign minister said on Sunday that Turkey and Egypt should boost cooperation in air transportation.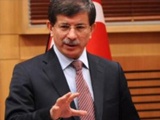 Turkey's Foreign Minister Ahmet Davutoglu met Egyptian Minister of Civil Aviation Ahmed Shafiq in Cairo.
Davutoglu was in the Egyptian capital to participate in International Darfur Donors' Conference.
During the meeting, Davutoglu said Turkey and Egypt should increase air transportation, which he thought would-be an important step for economic integration of the two countries.
Davutoglu said an air corridor should be established between Alexandria and Turkey.
"It is important for the two countries to be complementary of each other, not rivals," Davutoglu also said.
The conference raised 850 million USD for Darfur projects.
/World Bulletin/