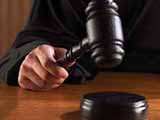 Arbitration Courtin Paris has scheduled next phase on the procedure for reviewing the case of cutoff by the French operator Eutelsat the Georgian Russian-language First Caucasian TV channel for March 22.
The sides will have to submit their final arguments today.
"Public Television of Georgia" filed a lawsuit against Eutelsat, demanding compensation for illegal stopping of broadcasting programs of the First Caucasian channel. The company claims that the operator stooped broadcasting of the channel because of pressure from Russia, which leases most of the channels of the same satellite.
The suit was considered immediately at a hearing in early February, but the decision was takeb by another judge. The main problem was the contract on providing services. According to the Georgian side, it exists and operates; the French side confirm the contrary of a statement.
It should be noted that a letter from 76 journalists exasperated by cutoff the First Caucasian TV channel from the satellite Eutelsat was published in the French newspaper Liberation. Authors of the statement blame Eutelsat in that it does not comply with an agreement to broadcast television via satellite W7.
/Trend News/