President Mikheil Saakashvili awarded the deputy of the Azerbaijani parliament Ganira Pashayeva with the title of Honorary Citizen of Georgia.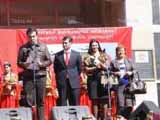 "This is my personal friend and I am proud that I have a friend who always stands next to our people," he said.
Mikheil Saakashvili declared the holiday of Nowruz the national holiday in Georgia. He stated this in Marneuli, where he arrived to congratulate the local Azerbaijanis with the holiday of arrival of spring.
"This decision is made on behalf of the Government of Georgia and points to the fact that we, citizens of Georgia, are the representatives of the united state and united society, the joy we have one and grief must be united, and this holiday will henceforth be celebrated throughout Georgia," Saakashvili said .
He stressed that the authorities have decided on the benefits for minorities, allowing them to learn better the Georgian language and become full members of society.
"We strive to make life in the regions of Georgia, including Marneuli, become better and for five years we have done much," he said.
Saakashvili said that Georgian and Azerbaijani peoples for many centuries been the fraternal peoples, and today Azeris stand side by side with the Georgians as Georgians with Azerbaijanis.
"Together we will win our fight and achieve the necessary results," he said.
/Trend News/
Click pictures to enlarge: