US President Barack Obama Saturday appealed directly to the Iranian people and repeated his offer of a dialogue with Tehran in a video message timed to coincide with Nowruz, the Persian New Year.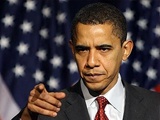 The president described the world's admiration for the Iranian people but criticized the government's refusal to cooperate with the international community on the country's nuclear programme, dpa reported.
"Faced with an extended hand, Irans leaders have shown only a clenched fist," he said.
"They have turned their backs on a pathway that would bring more opportunity to all Iranians, and allow a great civilization to take its rightful place in the community of nations," he said.
He continued that the US believed in "the dignity of every human being" and looked to a "hopeful future" for Iranians in which they could exercise rights which should be universal.
"That includes the right to speak freely, to assemble without fear; the right to the equal administration of justice, and to express your views without facing retribution against you or your families," he said.
He also threatened that Iran could expect consequences if it continued on its current course.
"We are working with the international community to hold the Iranian government accountable because they refuse to live up to their international obligations."
/Trend News/