Heavy rain has flooded hundreds of houses of IDPs in the compact settlement of refugees in Tserovani village last night.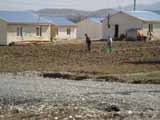 The swollen river got out of the bed and flooded more than two hundred houses.
The people sheltered in these houses were evacuated and housed in the building of a local school temporarily.
The flood has destroyed agricultural lands, killed poultry and cattle.
The village of Ksovrisi, Mtskheta district, has been seriously damaged last night.
The water has covered several tens of houses there.
Local administration spent last night with the injured residents. They will begin to count the damage after it stops to rain.
/Georgian Times/