Turkish Premier Recep Tayyip Erdogan who left for London on an official trip Monday said Turkey wanted to further enhance ties with United Kingdom.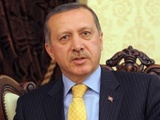 Erdogan, who will attend the Turkey-UK Business Forum in London, held a press conference before his departure.
Erdogan told reporters that his visit is important for enhancement of bilateral relations and cooperation between the two countries in the international arena.
He also said UK had been the country that extended the greatest support to Turkey's EU membership bid, adding that Turkey would be in close cooperation with UK.
Erdogan said he would meet with his British counterpart Gordon Brown and discuss bilateral relations as well as accession talks with the EU.
He said they would also discuss the Cyprus issue as well as the recent developments in Pakistan, Yemen and Afghanistan.
Erdogan said the ongoing extensive talks in Cyprus entered a critical stage, adding that the steps taken by the Turkish Cypriot side should be reciprocated by the Greek Cypriot administration.
He said Turkey continued to support the guidelines for a solution, the Turkish Cypriot and Greek Cypriot leaders agreed over on May 23, 2008.
/Trend News/