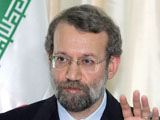 Parliament speaker congratulating Nouruz to MPs and Iranians in advance proposed calling next (Iranian) year as year for unity, sympathy, implementing laws and abiding by them for everyone and for officials.
Ali Larijani who as speaking at the evening session of the Parliament's Monday open session expressed hope that the next year's budget would be ratified after eliminating the problems with which the Guardians Council has found."
He also expressed hope that the New Year would be quite a brilliant line for the entire Iranians and the efforts made by enemies of Islam aimed at trouble making by the would be all in vain, relying on the might of the Iranian nation.
The Majlis speaker said that the probability of rejecting the 1389 (2010-2011) National Budget by the Guardians Council once again was very low and asked the people's representatives to be available on Tuesday morning so that if there would be any need to alter the law they would immediately begin doing so.
Larijani once again appreciated the government, the Strategic Planning and Supervision Deputy of the Presidential Office, and the Parliament members for drafting and ratifying the country's next year budget.
Before Larijani's address the Senor Parliament Speaker of the 8th Majlis Mohammad-Taqi Rahbar in brief remarks appreciated the Majlis, the representatives and the government for preparing and surveying the next year budget patiently and painstakingly.
/Irna/