EU Commissioner for enlargement Fuele set conditions to provide visa facility to Turkish citizens in a demand the government increased efforts.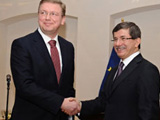 EU Commissioner for enlargement Stefan Fuele on Monday set conditions to provide visa facility to Turkish citizens in a demand the government increased efforts.
EU wants Turkey to sign a readmission agreement to halt the entry of "illegal immigrants" to Europe.
A significant number of people fleeing their poverty-stricken or war-torn countries of origin seek an opportunity to live in Europe. Turkey is the main route for thousands of asylum seekers coming from Afghanistan, Pakistan and the Middle East.
Asked to comment on visa liberalization to Turkey, Fuele said this was important both for Turkey and the EU.
Anadolu news agency quoted Fuele as saying "some studies were in question to help Turkey deal with "illegal migration". He noted that some studies should be carried out regarding extradition of those who went to Europe via Turkey.
EU Enlargement Commissioner said studies to liberalize visa requirements could start in the following stages in case any progress could be recorded in dealing with "illegal migration."
After the European Court of Human Rights granted two Turkish drivers visa-free travel for business purposes, Turkish diplomats kicked off a campaign to widen visa flexibility in cooperation with business associations. Turkey advocates that the court ruling be applied to students, academics, artists, scientists and businessmen under the Customs Union agreement.
Germany has already introduced new regulations in line with the court verdict, but most of the other EU member states are still reluctant to take any further steps.
However, Fuele reaffirmed his support to Turkey's accession talks and bid to join the European Union (EU).
Fuele also underlined his support to efforts to normalize relations between Turkey and Armenia while speaking at a joint news conference with Turkish Foreign Minister Ahmet Davutoglu in Ankara.
Fuele said he welcomed Turkey's policy of zero problem with its neighbours, which was discussed at the meeting. He said he also welcomed historical steps made between Turkey and Armenia to normalise relations.
Fuele said they also discussed Cyprus question adding that implementation of the Additional Protocol was important for the EU and urged Turkey to normalize relations with the Greek Cypriot party.
The additional protocol to the Ankara Agreement foresees extension of Turkey's customs union deal to ten countries that joined the European Union (EU) in 2004, including the Greek Cypriot administration.
He said any comprehensive solution that would be found on Cyprus question would be a historical development both for Turkey and the EU.
Reaffirming his commitment to see Turkey as a member of the EU, Fuele said his meeting with Davutoglu focused on EU's commitments and Turkey's requirements to make steps during the reform process.
"We have also reaffirmed that the EU should assume a role not only as an observer but a leader of the world," he noted.
Turkey became an EU candidate country in December 1999. The union launched accession talks with Turkey on October 3, 2005.
Asked to comment on approval of the Armenian resolution in the Swedish parliament, Fuele said the commission did not make comments on the internal decisions of the member countries.
Earlier in the day, Fuele also got together with Turkish Prime Minister Recep Tayyip Erdogan at a closed-doors meeting. Turkish State Minister & Chief EU Negotiator Egemen Bagis were also present at the meeting.
/World Bulletin/