Iranian Interior Minister Mostafa Mohammad-Najjar will visit Azerbaijan in late April - early May, Iran's Deputy Interior Minister in the parliament Mehdi Mohammadifar said.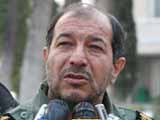 According to him, during the visit Minister will be accompanied by heads of the four provinces of Iran, and governmental officials.
The purpose of the visit is to discuss cooperation between the two countries in economy and security.
The plans of Iranian Interior Minister include signing of documents on cooperation in security with a number of countries. Such documents have been already signed with some countries, Mohammadifar said.


/Trend News/