French Foreign Minister Bernard Kouchner has urged European states to close ranks and take unilateral action against Iran over its nuclear program.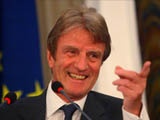 The demand comes as Europe failed to agree on the need to impose further punitive measures against Tehran.
Sweden's foreign minister said Tuesday all parties involved in the Iranian nuclear issue must switch focus from sanctions to diplomacy.
Carl Bildt, the Swedish foreign minister, told the Eco of Moscow radio that the Iranian nuclear issue could be best resolved through diplomatic means.
Kouchner, who was addressing reporters during a foreign ministers retreat in northern Finland, said France remained determined to rally support from the United Nations in targeting Iran's nuclear program with sanctions.
He, however, admitted that the support of Russia and China among the five permanent Security Council members is crucial in punishing Iran over its nuclear plans.
Washington along with Britain, France and Germany have for months sought to convince Russia and China that the time has come to get tougher with Tehran.
"We are ... talking and talking, trying to get an agreement by negotiation and at the same time working on sanctions. I believe that yes, before June it will be possible, but I'm not so sure," said Kouchner.
"Before June I hope, but who am I to hope or decide," he said, pointing out that France had originally hoped to get a UN sanctions package prepared in February, when it was chairing the Security Council.
His comments received the instant backing of Finnish Foreign Minister Alexander Stubb who maintained that there was "consensus enough" in the European Union for unilateral sanctions, an issue, he said, that would be discussed at the next EU foreign ministers' meeting on March 22.
"Failing [UN sanctions], I think there is an emerging consensus inside the European Union that we will take some unilateral measures from the EU side," Stubb said. "What those exact measures are have not been discussed in detail."
Citing "concerns" over Iran's domestic capabilities to enrich uranium, Western countries accuse Iran of the "intention" to enrich uranium to weapons-grade levels and have gone to great lengths to prevent the country from producing fuel for its medical and industrial needs.
Iranian officials, however, say any such move will fail to subvert the country's progress in various fields of science and technology, be it in nuclear development or any other sector.
But this has not stopped World powers, most of which possess and continue to develop vast nuclear arsenals that have been tested and even used in military confrontations, from lobbying for a "symbolic" tightening of economic measures against the Tehran government.
As a signatory of the Nuclear Non-Proliferation Treaty, Islamic Iran insists that it neither believes in atomic weapons, nor, as a matter of religious principles, does it intend to access such weapons of mass-destruction.
/Press TV/