Abkhazian legal government has a new minister of Health Care.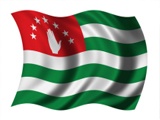 Beso Lagvilava has replaced Dalila Khorava on the position. The reasons of the dismissal of the previous minister are the misappropriation of state funds revealed in the ministry and the misuse of authority.
The authorities of the Abkhazian legal government say they work to regain the lost funds.
The head of the government Giorgi Baramia introduced the new minister to his staff today.
/Georgian Times/