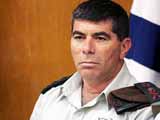 Israel's military head traveled to Turkey on Monday to take part in an international NATO conference along with military commanders from around the world.
Gen. Gabi Ashkenazi is also set to meet with Turkey's National Defense Minister Vecdi Gonul and Turkish General Staff Chief Gen. Ilker Basbug.
He is expected to return to Israel after those meetings.
/World Bulletin/