Iran's supreme leader, Ayatollah Ali Khamenei, urged Iranians to boycott a Persian fire festival on Tuesday, calling it un-Islamic and harmful, state media reported.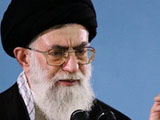 Charshanbe Soori, held on the eve of the last Wednesday of the Persian calendar year which ends March 20, is rooted in the Zoroastrian religion, the belief before the Islamization of Iran in the 7th century.
"It has no basis in Islamic religious law and causes harm and corruption, and therefore has to be avoided," Khamenei said on Sunday, adding the festival was "hallowing fire and thus un-Islamic."
Seven people have been killed in the recent says while making firecrackers for the festival, ISNA news agency quoted a police source as saying. Several shops selling fireworks have reportedly been closed.
Iranians usually celebrate the festival by lighting bonfires and leaping over the flames.
Authorities are apparently concerned the opposition might use the festival for a renewed protest against the controversial reelection of President Mahmoud Ahmadinejad in June 2009.
/Trend News/