Foreign Ministry spokesman Ramin Mihman-Parast said Iran was for the unity and solidarity among Palestinian groups against the usurper regime of Israel.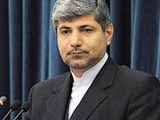 He made the remark in response to the remarks by the head of Palestinian Authority Mahmoud Abbas who recently claimed in Tunisia that Iran hindered unity and friendship between Hamas and Fatah.
Mihman-parast said Iran in the first place worked to create unity among Palestinian groups and also frankly tried to restore rights of Palestinians in regaining their motherland and returning to their homeland under a Palestinian administration.
He noted that Iran has always believed that holding of a free referendum, with participation of all Palestinians who will be deciding for their own future, was the only solution to the Palestinian issue.
/Irna/