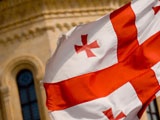 A former TV anchor, Inga Grigolia, is likely to lead a party-list of candidates in proportional contest for Tbilisi City Council membership, nominated by Christian-Democratic Movement (CDM), a leading party in the parliamentary minority, Rustavi 2 television station reported on March 9.
"No final decision is yet made, but I can confirm that we are actually in final stage of consultations [with Grigolia]," MP Giorgi Targamadze, leader of CDM and of parliamentary minority, told Rustavi 2 TV.
"We can say with high probability that she will be number one in our list [of candidates]," another senior CDM member, MP Levan Vapkhvadze, said.
Being a number one in the party-list of candidates means that Grigolia, who has been hosting various political talk shows for years on various TV stations - the most recently on the public broadcaster till July, 2009, will contest for the Tbilisi City Council chair's post.
Many in CDM leadership, including Giorgi Targamadze, were colleagues to Grigolia working together in Imedi TV station before quitting it two years ago.
Also no March 9, CDM inaugurated an election headquarter for its Tbilisi mayoral candidate Giorgi Chanturia, a former head of the state oil corporation. Chanturia, who said he is neither opposition, nor pro-government figure and not a politician at all, is running a campaign under the slogan "Employment and Low Tariffs" - household tariffs on water, electricity and gas.
/Civil.ge/