Turkey's prime minister was presented with the "King Faisal International Prize for Service to Islam" at a ceremony held in Riyadh, Saudi Arabia on Tuesday.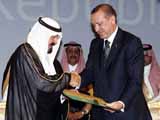 Speaking at the award ceremony, Turkish Prime Minister Recep Tayyip Erdogan said that Turkey exerted sincere efforts to establish peace, stability and security in its region and the world.
"The Middle East's being named as a region of blood and tears makes our hearts ache," Erdogan said, noting he desired such region to be remembered with its atmosphere of science, arts, literature, peace and solidarity.
"Our calls for peace, compromise, dialogue and justice have broad repercussions," Erdogan said, and described the "King Faisal International Prize" as a remarkable contribution supporting and encouraging Turkey's fight on such matter.
"As long as I breathe, I will proudly carry this great title," Anadolu news agency quoted the Turkish prime minister as saying.
The "King Faisal International Prize", which is given every year by Saudi Arabia's "King Faisal Foundation", is presented to scientists and people who create positive differences in the world and make contributions to Islam.
This year, eight people from seven countries were announced winners of the prize in different categories such as, Service to Islam, Medicine, Arabic Language and Literature, Islamic Studies, and Science.
/World Bulletin/
Click photos to enlarge: