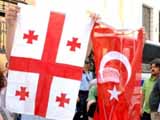 Turkish State Minister Hayati Yazici, who travelled to Georgia on Tuesday, attended an inauguration ceremony of new facilities of a Turkish high school in Batumi together with Georgian President Mikheil Saakashvili.
Several other senior Turkish and Georgian officials, including ministers, were also present at the ceremony.
Saakashvili and Yazici cut the ribbon together.
Following the ceremony, Yazici had a meeting with Georgian Finance Minister Kakha Baindurashvili. The two ministers discussed customs-related issues and trade between Georgia and Turkey, officials said.
/World Bulletin/