Albanian and Kyrgyz statesmen offered their condolences for victims of a 6-magnitude earthquake that hit Turkey's eastern Elazig province on Monday.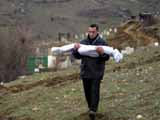 Sending a message to Turkish Prime Minister Recep Tayyip Erdogan, Albanian Prime Minister Sali Berisha offered his condolences to those who lost their beloved ones in the quake.
Moreover, in a message he sent to Turkish President Abdullah Gul, Kyrgyzstan's President Kurmanbek Bakiev expressed his profound sorrow over the quake and said that his country shared Turkish nation's pain.
A 6-magnitude quake struck the eastern province of Elazig at around 4:30 a.m. on Monday, killing 51 people and injuring 74 others as it knocked down stone or mud-brick houses in villages.
Survivors spent the night in tents as aftershocks continued to shake the area.
Istanbul-based Kandilli Seismology Center said that 800 aftershocks followed Monday morning's tremor, measuring up to 5.5 magnitude.
/World Bulletin/