Turkey's leaders pledged Tuesday to build quake-proof homes after a magnitude 6 temblor shattered mud-brick homes in the eastern part of the country, killing 51 people. Still, similar promises after devastating earthquakes in the west in 1999 have had limited impact.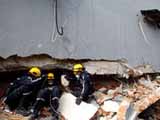 The quake near the remote village of Basyurt in Elazig province hit before dawn Monday, sparing some and crushing others in rubble. A 17-day-old baby survived because she was cushioned between her mother and grandmother while they slept. The two women perished.
That left the father of the baby girl who survived - the husband of the woman who did not - caught between joy and grief. Burhan Gunes said he was in an adjacent house in Okcular village when the earth began to shake and the walls caved in, burying him.
"I broke a window and was able to free myself from the rubble. My first thought was of my baby Helin. When I reached our house I saw that it was totally destroyed," the Anatolia news agency quoted Gunes as saying. "I first found the body of my sister. I was in shock. Then I heard my baby cry. ... I was very happy to see her but that went away when I realized that my wife and mother were dead."
Prime Minister Recep Tayyip Erdogan blamed many of the deaths on the shoddy mud-brick buildings typical of Elazig province, and pledged that quake-proof homes would be built in the area.
Health Minister Recep Akdag said the homes, typical of Turkey's impoverished villages, "topple down in the slightest of jolts, and those caught beneath die from lack of air."
"It has been this way for a hundred years, and we have to beat this," Akdag said.
In Gocmezler, another quake-struck village, a dead calf lay next to a gravely injured donkey that tried in vain to stand up each time someone passed by. In this part of Turkey, where the poor depend on livestock for survival, the impact of the earthquake will be felt long after aftershocks have ceased to terrify those left in the cold.
"We couldn't do anything for those animals. May God forgive us," villager Aydin Kilic said Tuesday, gesturing at the calf corpse and the donkey whose life was fading in front of him.
Hundreds of animals were buried beneath the rubble left over from Monday's pre-dawn earthquake, residents in Gocmezler and Teke villages said. In line with tradition in poor, rural households, the animals were kept on the ground floors of houses for their own warmth in the harsh winters, as well as that of owners living above them. Only people with many animals tend to keep them in separate barns.
For the people of this barren part of eastern Turkey who never had much to begin with, the loss of livestock will mean hardship and even desperation for a long time to come. There is no significant agriculture or industry in the area. The monthly income is a few hundred dollars on average; life is spartan, though television antennas poking above the rubble in some villages revealed one source of leisure.
Now homeless by the hundreds, the quake survivors shelter overnight in tents, crowding around bonfires to keep warm while mourning their buried dead. Most of the 51 people killed were buried immediately according to Muslim traditions.
"I couldn't save the livestock of my relatives, but I'm trying to salvage some stuff from the wreckage," Gocmezler villager Yasar Bahceci said.
Another villager, Ekrem Cagribay, said one cow costs the equivalent of US$3,000, and "My relative lost 20 cows."
The powerful earthquake has exposed Turkey's failure to construct sturdy homes near the country's two major fault lines, despite having endured two massive quakes in the northeast that killed some 18,000 people in 1999.
As authorities assessed the damage Tuesday, Palu town administrator said 718 homes had been damaged there alone.
The earthquake - which hit at 4:32 a.m. Monday (0232 GMT, 9 p.m. EST Sunday) - caught many people in their sleep. Worst hit appeared to be Okcular, where 19 of the village's 900 residents were killed and only a few homes remain standing.
The region 340 miles (550 kilometers) east of the capital, Ankara, is near the East Anatolian Fault - one of the two major fault lines that cross Turkey. The other is the North Anatolian Fault, which runs near Turkey's largest city of Istanbul.
The Kandilli seismology center said there have been more than 100 aftershocks, including one measuring 5.5, since the initial quake.
Turkey's military has raised tents and delivered supplies to the homeless in Teke, Gocmezler, Okcular and Yukari Demirci villages, but victims complained about the cold and said memories of the quake haunted the young.
"I can still feel the tremors. I sometimes feel them as if it were still happening," said Zeynep Karadag, a 10-year-old girl in a tent outside Okcular. "We were very cold during the night, we did not have enough blankets. My mother hugged me and that's how we kept warm."
She stared at rubble where her school once stood. Only the flagpole remained.
"I wonder how we will do this year, we have no school left," the girl said.
Meanwhile the quake has focused attention on Istanbul: Some experts cite a 2 percent annual probability that a large temblor will hit the city of 15 million people - or one-fifth of Turkey's population.
Seismologists and civil engineers warn that not enough has been done to protect Istanbul, and while the city itself planned to assess the city's buildings to identify those needing reinforcement or demolition, follow-up work has lagged.
Part of the problem is a lack of oversight in construction.
"It is not small earthquakes that kill people, it is unlicensed constructors and disorderly construction that kill," the Ankara-based Tum civil engineers federation said in a statement.
/Trend News/