Iran successfully tested the missile system NUR of ground-to-ground class in the Persian Gulf, located on recently commissioned destroyer Dzhamaran.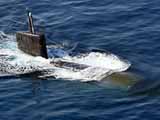 Dzhamaran was commissioned in February. The destroyer was designed and manufactured by Iranian experts. Fars News agency named the destroyer the largest defense project and reported that second destroyer is being produced at the moment.
Dzhamaran is capable to strike targets on the water surface, underwater and on air. In addition, helicopters may be placed on board of the destroyer. It can also be used in "electronic warfare."
/Trend News/