Movement for Just Georgia leader Zurab Noghaideli again headed for Moscow.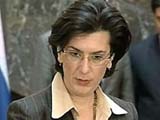 According to the party press office, he will conduct a number of meetings and negotiations on the most important issues.
The issues include improving economic situation in Georgia, return of Georgian products to the Russian market and resuming air connection between the two countries.
Noghaideli will return to Tbilisi on March 11.
Last week ex-Speaker, one of the opposition leaders, Nino Burjanadze, visited the Russian capital and was received by PM Vladimir Putin.
/Georgia Times/