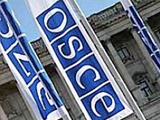 The OSCE has always supported presence of observer mission in Georgia, and now try to reach agreement by consensus on the return of our monitoring in conflict regions, the OSCE Parliamentary Assembly President Joao Soares said after meeting with Georgia's Vice Prime Minister Giorgi Baramidze.
He said the OSCE will do everything to restore the monitoring mission.
In his turn Baramidze said that the Georgian side is ready to discuss all possible options for the restoration of the mission in the country.
/
Trend News
/