A man trying to get into the Ukrainian Consulate in Istanbul's Bakırköy district was shot by the premises' security officer Tuesday morning.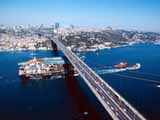 The man, saying he was armed and carrying a bomb, attempted to enter the Consulate in Bakırköy's Şenliköy neighborhood. A security officer shot the unidentified man and found a bomb strapped to his body.
The unidentified man was still at the location of the incident and a bomb squad was called in to disarm the bomb, the news channel said.
Motives for the possible attack remain unclear at this time.
/Hurriyet Daily News/