Georgian Government has finalized a six-month contract with one of the most authoritative lobbying companies in Washington Podesta Group in January 2010.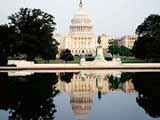 According to the contract, which amounts to $300,000  lobbying company undertakes to provide the Georgian authorities with lobbying in Congress and the U.S. executive authorities, as well as provide with media-related services. According to the documentation provided by the company to the U.S. Justice Department, it will also organize meetings between representatives of the Georgian authorities with members of the Congress and the U.S. executive authorities, Georgian media outlets reported.
Podesta Group was founded in 1988 by brothers Tony and John Podesta. Today, Tony Podesta is considered one of the most influential lobbyists in Washington, and his brother - John Podesta, was co-chairperman of Barack Obama's administration (since the election to the inauguration).
Also in January, Georgian Government has rented a lobbying company of former democrat congressman Richard Gefhart, with which has finalized an annual contract worth $436 800. Both contracts on behalf of Georgian Government were signed by Georgia's National Security Council Secretary Eka Tkeshelashvili.
/Trend News/