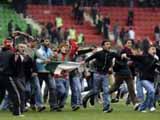 A soccer match between Turkish sides Bursaspor and Diyarbakirspor in primarily Kurdish southeastern Turkey was suspended on Saturday after fans threw stones at players and officials.
The game was called off in the 15th minute after a stone hit assistant referee Kemal Yilmaz despite a police barricade. Bursaspor goalkeeper Dimitar Ivankov was also hit by a stone before the game.
Riot police used smoke grenades to disperse stone-throwing fans.
Players from Bursaspor who are second in the Turkish league, were escorted to the airport in police vehicles under a hail of stones from Diyarbakirspor fans.
Ten people were injured in clashes between the two sides outside the stadium and police detained four Diyarbakirspor fans.
On Sunday the Vatan newspaper said the Turkish Football Federation had decided to close Diyarbakirspor's stadium for the rest of the season, forcing the team to play its remaining five games in another venue without fans.
/World Bulletin/
Click photos to enlarge: