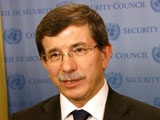 Turkish Foreign Minister Ahmet Davutoglu arrived in Damascus Sunday for talks with Syrian President Bashar al-Assad, which diplomats said would focus on the Middle East peace process, dpa reported.
Last week, Turkey announced that it was prepared to resume mediating indirect talks between Syria and Israel if both parties agreed.
Negotiations reached a stalemate after the resignation of former Israeli Prime Minister Ehud Olmert. Syria then withdrew from the talks in protest at the Israeli three-week offensive in the Gaza Strip.
Davutoglu is also expected to meet with his Syrian counterpart, Walid al-Moallem, and Assistant Vice-President Hassan Turkmani.
Israeli Prime Minister Benjamin Netanyahu said Wednesday that he was prepared to meet with al-Assad immediately and without preconditions.
Al-Moallem replied, saying that Israel must first declare its intention to withdraw to its 1967 borders before any talks can take place.
The Turkish-mediated talks were the first since 2000. They broke down because of disagreement over Syrian demands that Israel withdraw from the Golan Heights, which Israel captured in the 1967 Middle East war.
/Trend News/