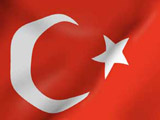 Turkey is home to a wide variety of grapes. Therefore, it has quite a big selection of local wines. However, the country fails when it comes to good marketing skills, according to Charles Metcalfe, founder of the International Wine Challenge competition and chairman of the competition.
Speaking during the press meeting of the Wines of Turkey Platform, or WOT, on Friday, Metcalfe said: "Turkey needs to establish good marketing skills to sell its local wines. Turkey's wine industry needs a much better publicity to make itself heard in the international platform. Thus, there should be a body, which speaks on behalf of wine producers."
WOT in Turkey, which gathered wine specialists coming from various countries, ended Friday. The event, which was launched on Feb. 28, focused on the past and present of Turkish wines. Experts gave the best Turkish wine 15.35 points out of 20. Turkey has nine wines that could be categorized in the "very good to excellent" level, according to wine experts. Most Turkish wines fall into the "good and fair" categories. None of the Turkish wines were said to be "excellent" or "poor."
"Turkey has a good cuisine and good local wines. If the country manages to package these two together, it can attract more tourists and even create wine tourism in Turkey," said Metcalfe. Turkey's culture, which is a combination of east and west, ancient and modern, would be a perfect platform for wine tourism, he added.
"In order to export more wines and make its existence felt in the global wine industry, the marketing aspect of the business needs to be improved significantly," said Metcalfe. "Currently, Turkey exports a decent amount of wine abroad. However, things could be better for the industry," he said.
Comparing Turkey's wine industry with "new world" countries, such as New Zealand, Chile, Australia, Argentina, South Africa and United States, Metcalfe said: "While new world countries produce really good wines they have also improved their global marketing skills by creating a united front to represent their countries' wine industries on the global platform. Turkey should follow their lead."
Commenting on the world wine industry, experts agreed that new world countries are doing very well when compared to "old world" countries, such as Italy, France, Spain, Germany, Greece and China. "That is because the old countries are not making enough of an effort to market their products," said Metcalfe.
/Hurriyet Daily News/