Amid long delays in inauguration of Iran's first nuclear power plant in the southern city of Bushehr, an Iranian official says the plant will go into service in due time.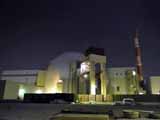 "The Bushehr power plant will be launched according to schedule by the end of the spring (late June). There is no problem in the process," the Iranian Labor News Agency quoted head of the Atomic Energy Organization of Iran Ali Akbar Salehi as saying on Friday.
"This plant will be used the same way that the other nuclear plants in the world [are used]," he added.
General Director of Russia's state nuclear corporation (Rosatom) Sergei Kiriyenko said in January that Iran's first nuclear power plant would become operational by the end of 2010.
Salehi had earlier announced that the 1,000-megawatt Bushehr plant would be launched by late September.
Iran expects to generate 17.5 percent — 20,000 megawatts — of the country's electricity demand through nuclear energy over the next two decades.
On Tuesday, a team of seven senior regulators from the International Atomic Energy Agency (IAEA) verified that the plant meets safety regulations.
The team, assembled by the IAEA for an Integrated Regulatory Review Service mission, was headed by Olena Mykolaichuk and visited the plant in southern Iran.
Iran's nuclear point man criticized the head of the UN nuclear watchdog, Yukia Amano, for his biased recent report about the country's nuclear program.
"Regretfully, Amano did not observe impartiality in his report about Iran's nuclear activities," Salehi said.
"The IAEA head should not reflect demands of certain countries, it should reflect realities on technical and legal basis," he added.
The construction of the Bushehr plant started in 1975 when Germany signed a contract with Iran. Berlin, however, pulled out of the project following the 1979 Islamic Revolution.
/Press TV/