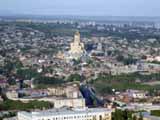 Georgia and the EU signed an agreement on common airspace. The signing ceremony was attended by the head of the European Commission representation in Georgia, ambassador Per Eklund, minister of regional development and infrastructure of Georgia David Tkeshelashvili and the head of the transport department Mamuka Vatsadze.
"This is a step forward, which contributes to Georgia's integration into European structure and the establishment of close contacts between the nations," Per Eklund said.
Mamuka Vatsadze noted that thanks to this agreement the flight area will extend and the air communication will become more frequent.
"All these will have a positive impact on the Georgian citizens and will contribute to strengthening economic relations and developing tourism in the country," he said.
/Trend News/