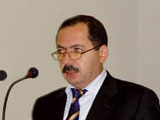 Armenia's public debt of 38 percent will reach 45 percent of GDP till this year-end, but according to international standards it's not that high, as the peril point in international practice is over 60 percent, Armenia's Minister of Finance Tigran Davtyan said at country's parliament.
He explained the MPs that public debt comprises of foreign, internal and CBA's debt.
"The highest rate of current 38 percent falls to foreign debt — 28 percent of GDP. However under the international standards this is not a high percentage either, having the foreign debt upper ceiling at 50 percent and more.
In addition, Davtyan noted that the government drafted relevant arrangements in case the public debt exceeds 50-percent limit.
/News.am/