Heads of Palestinian armed resistance groups will meet in Tehran on Feb. 27-28 with the participation of Iranian President Mahmoud Ahamadinjad.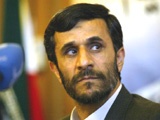 The leaders will discuss with the Iranian leadership the future action of the resistance against the occupation of Palestinian territories by Israel.
Consistently supporting the military resistance against Israel, Iran is playing a key role among the Islamic countries, which causes dissatisfaction of some moderate Arab countries.
The meeting will take place on the backdrop of challenge by the head of the Palestinian Hamas resistance movement, Ismail Haniyeh, to begin the third intifada in Gaza and the West Bank in response to the Israeli government's decision to include the two shrines, which are located in Palestinian territory, in the list of Jewish people's national heritage.
Last week the Israeli Prime Minister Benjamin Netanyahu decided to include Rachel's Tomb in Bethlehem and the Cave of the Patriarchs in Hebron into the list of "politico-religious heritage of historical sites of Israel". These two relics, in the west bank of the Jordan River, are sacred both to Jews and Muslims. Israeli government's decision provoked strong protests among Palestinians and Arabs, RIA Novosti reported.
According to Haniyeh, in the occupied territories, the annexation plan is aimed eradicating Palestinian identity, changing the status of Islamic monuments and stealing Palestinian history.
Opponents of Haniyeh, leadership of the Palestinian National Authority (PNA), headed by Mahmoud Abbas, which is based in the West Bank, also severely condemned the decision by the Israeli prime minister.
"This is a provocation against all Muslims around the world and particularly Palestinians," said Saeb Erekat, a senior assistant of the Palestinian leader.
Recently in Hebron on the West Bank, a clash took place between Israeli police and Palestinian young people who were protesting against the Israeli actions.
Netanyahu's decision was also condemned by a number of Arab countries, especially Egypt, Jordan and Syria, which have signed peace agreement with the Jewish state. Muslims call the tomb of the Jewish Foremothers Rachel - Bilal Mosque and Cave of the Patriarchs - Prophet Ibrahim's temple. The Jewish militant Baruch Goldstein massacred in the cave (Temple) territory during the morning praying of Muslims in 1994. As a result, 29 Palestinians were killed and Goldstein was killed by Israeli police.
Upon the decision by the Israeli occupation authorities, the Cave of the Patriarchs was divided into two parts - the Jewish and Muslim.
/Trend News/