Turkish State Minister for foreign trade Zafer Caglayan participated in the "Turkey-Syria Business Forum" in Damascus on Wednesday.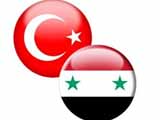 Delivering a speech in the forum, Caglayan said the forum held in Syria would enhance relations between Turkey and Syria.
"Our relations with Syria have reached a favorable point," he said.
Caglayan said, "Turkish and Syrian businessmen can collaborate in several areas."
Trade volume between Turkey and Syria in 2008 climbed 49 percent to 1.8 billion USD after a free trade agreement went into effect in 2007.
Turkish exports constitute major part of the trade with 1.4 billion USD with a 27.8 percent increase over the last year.
Turkey's imports from Syria was down 48 percent to 327 million USD in 2009 mainly due to a drop in oil prices.
/World Bulletin/