Turkey and China will cooperate to further develop the commercial relations.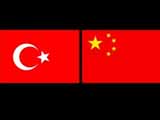 Husnu Ozyegin, chairman of Turkey-China Business Council under Foreign Economic Relations Board of Turkey (DEIK), met with Chinese Ambassador in Ankara Song Aiguo, and asked his support for commercial cooperation between the two countries.
Ozyegin said that a delegation of executives from Turkey's leading companies could visit China to invest in this country.
Ozyegin also asked the support of Chinese state to hold meetings between Turkish and Chinese companies.
Ozyegin noted that he would like to host a Chinese delegation in Istanbul, and brief about commercial opportunities of Turkey.
He also told Aiguo that energy trade between Turkey and Russia would reach an important level in the next five years, and China and Turkey could make cooperation in this area too.
Ozyegin said that DEIK was exerting efforts to open a representation in China, and asked for the support of ambassador in this issue.
Nearly 67 Turkish companies have offices or representations in China. There are nearly 305 Chinese-capital companies in Turkey. Turkey-China trade volume was 12.6 billion USD in 2008.
/World Bulletin/