A Turkish doner kebab vendor told a German court Wednesday how he stabbed his teenaged daughter 68 times in their home, but he denied the attack was an honour killing.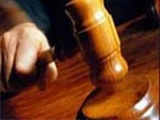 Prosecutors in the southern town of Schweinfurt have charged him with murder, alleging he killed Busra, 15, because she had a boyfriend, 17, and was a heavy user of her mobile phone and the internet.
But Mehmet O, aged 46, claimed he mistook her for a burglar.
"What I did was horrible," the accused said in a statement read out for him by his lawyer. "What happened has nothing to do with family honour." He claimed he heard a noise in the night last June, grabbed a kitchen knife, and attacked an intruder.
The girl's bloodied body was found the next day on the sofa where she had slept. The accused vanished. When police caught him, he made a remark about his daughter "not choosing the Muslim way." The court is expected to ask him what that meant.
Answering in Turkish through an interpreter, the accused described on the first day of the trial his own strict childhood, his move to Germany in 1991 and his history of suffering from depression. He said he was disoriented on the day of the stabbing.
Prosecutor Rainer Guendert told the court, "The accused did not approve of his daughter's western lifestyle." Guendert contended the accused killed the girl because he thought the honour of the family was at risk.
Honour killings have become a frequent topic in the German media in recent years. Federal police estimate 50 Muslims have been killed in the past decade by relatives with "family honour" motives.
/Trend News/