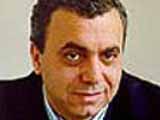 "Why do Armenian gas consumers have to pay U.S. $341 for 1,000 cubic meters if Russia gas will be purchased at U.S. $180 from April 1," the Armenian ex-premier, member of the Armenian National Congress (ANC) Hrant Bagratyan told reporters.
He considers unacceptable the ArmRosgazprom Director's arguments that the company spent much money on installing gas-supply networks so the gas price has to be raised.
He reminded the journalists that ArmRosgazprom Director Karen Karapetyan was recently invited to a function, with the admission fee being ₤25,000.
"Who allowed you to take part in such bourgeois functions and then include the money spent in the price? What is the persons' salary, what are their bonuses and what expenses do they show? We are all ArmRosgazprom shareholders, as 20% of the company belongs to the state. So we have the right to demand that the information be available to us," Bagratyan said.
"Robert Nazaryan (the Chairman of the Public Services Regulatory Commission) tells us to be content that the price was not raised a year ago, whereas must defend our interests, not ArmRosgasprom's," Bagaratyan said.
As regards the expected 40% rise in the gas price for ordinary consumers, while large consumers will purchase it at a lower price, Bagratyan stated that the prices are either equal or higher for large consumers worldwide.
/News.am/