The United States has again opposed Iran's latest offer to the UN nuclear watchdog for the purchase of fuel it requires for a Tehran research reactor.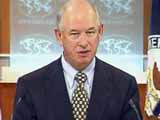 State Department spokesman Philip Crowley rejected the Iranian proposal, calling it "unacceptable."
Iranian Ambassador to the International Atomic Energy Agency (IAEA) Ali Asghar Soltanieh said Tuesday that Tehran has sent a new letter concerning the fuel supply for the Islamic Republic's research reactor.
"Iran is still ready to purchase the fuel it needs for Tehran's research reactor," the letter said. It asked the agency to fulfill its responsibility and "facilitate the delivery of the fuel."
"Iran is ready to simultaneously exchange the fuel required for the Tehran research reactor with its low-enriched uranium within Iranian territory if the IAEA lacks the ability to fulfill its duties," Soltanieh added in the letter addressed to the Director General of the IAEA Yukiya Amano.
The US has consistently opposed Iran's proposals on the fuel exchange and following the foot-steps of its closest ally, Israel, in making extraordinary efforts to escalate pressure and imposing additional sanctions on Iran for its nuclear program.
"We will continue to work within the IAEA and also consult from the international standpoint on appropriate next steps, including the prospect of sanctions," Crowley threatened.
"We have not closed the door to further engagement, but you have actually to have a willing partner to engage," he added.
"The fact is," Crowley claimed, "Iran makes these series of statements day after day, week after week, but refuses to come to the table and actually negotiate in good faith."
The new US rhetoric comes in the backdrop of a declaration by Iranian President Mahmoud Ahmadinejad on February 11 that Tehran has successfully completed the production of its first stock of 20-percent enriched uranium.
"We have produced the first batch of 20-percent enriched uranium at the Natanz Enrichment Facility," the president said.
Iran had requested that the IAEA arrange for the supply of the fuel to the country per its duty to member states. The West, on the other hand, has been pressuring Iran to accept a UN-backed deal which requires Iran to send most of its domestically-produced low enriched uranium (LEU) abroad for conversion into the more refined fuel, required by the Tehran research reactor requires to produce medical isotopes.
Tehran insists that its concerns on receiving guarantees for the return of its LEU should be heeded. The US, which first floated the proposal, refuses to consider Iran's demand.
Iran needs 120 kilos (264 pounds) of 20 percent-enriched uranium to fuel the Tehran research reactor, which produces medical isotopes for cancer patients and is due to run out of fuel soon.
If the research reactor's fuel is completely exhausted, there will be consequences for thousands of Iranian patients that are prescribed post-surgical treatment.
/Press TV/