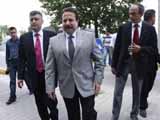 Davut Dursun and Zahid Akman, the current and former presidents, respectively, of the Supreme Board of Radio and Television, or RTÜK, have been sentenced to two years and six months in prison for malpractice.
Dursun, Akman, nine current and former board members and five bureaucrats were on trial at an Ankara court for "malpractice by not following judicial decisions." Cengiz Özdiker, former department head for RTÜK, filed the case.
RTÜK member Abdulvahap Darendeli was also sentenced to serve two years and six months in prison. Board member Mehmet Dadak and former board member Arif Merdol were sentenced to two years and two months; while RTÜK Deputy President İlhan Yerlikaya, board member Taha Yücel and former board members Şaban Sevinç and Paşa Yaşar received sentences of two years, nine months and 10 days. They will also be stripped of benefiting from certain rights according to the 53rd article of the Turkish Penal Law. The lawyers of the accused are planning to appeal the decision. The court found the five bureaucrats innocent of the charge.
Akman has also been implicated in the ongoing Lighthouse e.V. charity fraud case in Germany.
/Hurriyet Daily News/