A criminal court in Ankara sentenced Wednesday both the sitting and a former chief of Turkey's broadcast watchdog to prison for official misconduct.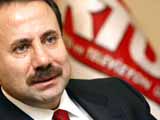 Davut Dursun, chairman of the Supreme Board of Radio and Television (RTUK), and the board's former head Zahid Akman -- still a board member -- were sentenced to two and a half years in prison for refusing to reinstate a top RTUK auditor to his post despite an administrative court order that had told them to do so.
The Ankara court also sentenced six sitting and former board members to imprisonment for over two years.
/World Bulletin/