This morning Iran has executed the Jundullah terrorist organization leader Abdolmalek Rigi's brother Abdulkhamid Rigi.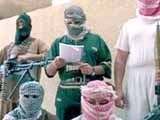 Abdulkhamid Rigi was executed on charges of murdering several people, including policemen and their families, the source reported. Earlier, the death sentence imposed by a few months ago has been postponed for certain reasons.
The Iranian Intelligence Ministry announced on Tuesday that security forces have succeeded to arrest terrorist ringleader Abdolmalek Rigi in an operation in eastern country.
The Jundullah terrorist group, known as the Rigi group, has conducted a series of deadly terrorist acts in eastern Iran.
The group, led by Abdolmalek Rigi, claimed responsibility for an attack that killed over 40 people, including five senior commanders of the Islamic Revolution Guards Corps, in the southeastern province of Sistan-Baluchestan Oct.18. Militants of the Jundullah ring regularly cross over into Iran from their hideouts in neighboring Pakistan to attack civilians and police officers.

/Trend News/