The first meeting of industry ministers of the developing eight Islamic countries (D8) will be held in Tehran from Feb. 27 to March 2.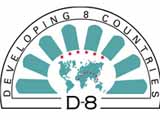 The meeting is aimed to increase the influence of D8 countries in global industry, diversify and create new opportunities in trade relations and provide better standards of living.
D8 was established upon Turkey's initiative by Iran, Bangladesh, Egypt, Indonesia, Malaysia, Nigeria, Pakistan and Turkey following the "Conference on Cooperation for Development" Oct.22, 1996. June 15, 1997 Istanbul hosted Summit of Heads of D8 States.

/Trend News/