Iran's Defense Minister said Iran's defense priority was to promote sustainable peace and tranquility in the region.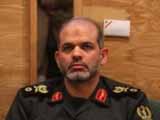 Brigadier General Ahmad Vahidi made the remarks on Wednesday while talking to reporters upon his arrival in Qatar.
The Iranian minister was welcomed by Qatari Chief of Staff of the Armed Forces Hamad bin Ali al-Attiyah.
Pointing to the cordial ties existing between the two countries, he said the Tehran-Doha relations could serve as a good example for other Middle East states.
Iran and Qatar have considerable potentials for bilateral cooperation, Vahidi added.
He also noted that the development of defense cooperation with the Persian Gulf littoral states is among major plans of Iran's Defense Ministry.
Vahidi hoped Tehran and Doha would take great strides in fostering both bilateral and multilateral defense cooperation.
The Iranian defense minister is visiting Doha at the invitation of Qatari Crown Prince Sheikh Tamim bin Hamad al-Attiyah.
/Irna/