Iran supported the idea of Asian convergence proposed by Japanese government, said visiting Speaker of the Iranian Parliament (Majlis) Ali Larijani Wednesday morning.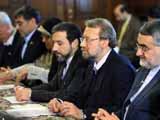 Larijani who is in Japan on a five-day visit, made the remarks in a meeting with Foreign Minister of the country Katsuya Okada.
Congratulating victory of the new Japanese government in the country's latest elections, Larijani said the ground was now prepared for expansion of mutual ties between the two capitals in all arenas.
He voiced Tehran's willingness to help Tokyo materialize its Asian convergence plan.
Okada, for his part, expressed satisfaction over Tehran-Tokyo ties, calling for fostering bilateral cooperation in all fields.
Referring to rich Iran's national resources and high human power, the Japanese minister said Iran could play an effective role at international level.
Larijani arrived in Japan Monday evening heading a delegation.
While in Tokyo, The Iranian parliamentarian has, sor far, negotiated with top Japanese officials on major bilateral, regional and international developments.
He is also to pay a visit to Nagasaki where he is to lay flowers at the monument of the victims of the US atomic bombings against Japan during the final stages of the World War II in 1945.
/Irna/