Family of 21-year old Georgian luger Nodar Kumaritashvili, who died in training right before the Olympics in Vancover, will sue the International Olympic Committee in a bid to receive compensation.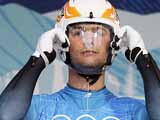 Georgia's Sports Minister Nikoloz Rurua promised assistance of the state in case the late luger's family sues the IOC.
He highlighted that a criminal case was brought over the case of his death and investigation in Canada will be finished in March or April.
Kumaritashvili died as a result of the accident in Whistler track, several hours before the opening of the Olympic Games on Feb. 12.
While training he failed to take the final 270-degree turn at the speed of 145 km/h and  was thrown out of the bobrun, hit the metal column, and died of injuries in a hospital near Whistler.
/Georgian Times/
Related News:
Georgian Luger laid to rest
Street named after late Georgian luger
Funeral service for dead Georgian luger held in Vancouver
Georgian athlete's corpse to be taken home on Feb. 17
Georgian luge athlete dies after crash - UPDATED - PHOTOS