Georgian parliament Speaker Davit Bakradze and Vice Speaker from the ruling party Mikheil Machavariani have left for Kiev to attend the inaugural ceremony of Ukraine's new President Viktor Yanukovych.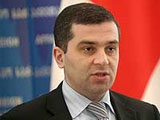 Bakradze said before the departure that he planned to hold a meeting with Yanukovich.
He said there is a desire of continuing relations between the two countries and nobody has right to interfere in this process.
The inaugural ceremony will be held in Kiev on Feb. 25.
/Georgian Times/